Eryn Lovik was just looking for a way to keep her 2-year-old daughter, Emmy, entertained during Fresno County's stay-at-home order during the COVID-19 (coronavirus) crisis.
 
As it turned out, Emmy ended up helping frontline care workers at Community Medical Centers.
Painting for A Cause
Lovik is a local artist, and being at home full-time with Emmy gave her the idea of setting up an art area to keep her occupied. As Lovik showed Emmy how to paint, she quickly realized the talent for art had been passed from mom to daughter.
 
"I was pretty amazed that a 2-year-old caught on so quickly and loved it so much," Eryn said. "Then I started thinking we could try and help the community during this time with her artwork, and I could teach her about helping people."
 
She decided to have Emmy create her own paintings – with a little assistance. Lovik made a peace sign, a heart and a cross with painter's tape on canvases and let Emmy paint over them. Lovik then created a fundraiser on Facebook, sending each donor one of Emmy's custom paintings. The proceeds were donated to local organizations helping the Valley through the COVID-19 (coronavirus) crisis, including Community Medical Centers.
 
Lovik's goal was to raise $300, but the outpouring of support on social media was greater than she expected. When the fundraiser ended, Emmy's paintings raised a whopping $1,100!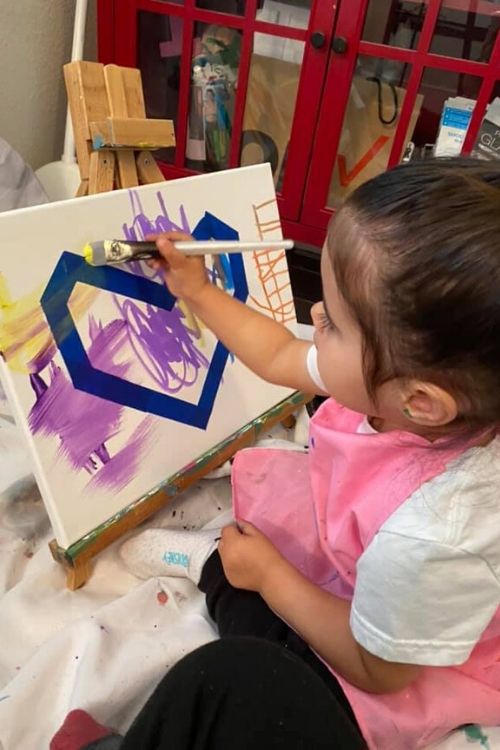 A New Fundraiser
The fundraiser's success inspired Lovik to help Emmy create new works of art that will again be given to donors.
 
Proceeds from the second fundraiser will be used to purchase personal protective equipment, such as masks, for frontline healthcare staff and testing equipment for patients at Community's hospitals. Donations can also be used to help Community's frontline staff with childcare costs so they don't have to miss work and can continue keeping the Valley safe around the clock.
If you'd like to donate and receive one of Emmy's original paintings, you can visit her Facebook fundraiser page.