The housebound woman's face lit up when she opened the cardboard box stamped with "Central California Food Bank" and found canned vegetables, muffin mix, dried beans, cooking oil and other staples. Leslie Flores, R.N., a Community Medical Centers home health nurse who is helping deliver food boxes to her patients, said the woman had been eating mostly spaghetti for days. "She told me, 'I haven't had this in forever!'"
 
When the coronavirus pandemic shut down local businesses, Fresno's vulnerable populations had even more difficulty with food insecurity. Central California Food Bank saw its food lines swell shortly after the statewide shelter in place order. But, food bank leaders knew plenty of people weren't lining up – especially the elderly and those with chronic conditions that put them at greater risk.
Katie Zenovich, Community's Chief Fund Development Officer, had the same thought. When COVID-19 hit, she remembered, "we have nearly 800 patients in the home setting that our home health nurses take care of every day," she said. "I thought, 'What about those 800 people who we really want to keep at home and out of the hospital?' I bet about half can't go out because of their compromised health."
 
Zenovich reached out to connect Community's home health department to local charities that could help. Central California Food Bank partnered with Community to get food boxes out to families in need via home health nurses.
 
Earlier this year, as part of its community benefit outreach, Community provided funding to the food bank to help families with children under age 3. As a non-profit hospital system and the Valley's safety net healthcare provider, Community invested $174 million last year, about 11% of its operations budget, on community benefit outreach to underserved communities, medical training, public education and unreimbursed and charity care. Community benefit work focuses on key local health needs and challenges, including economic issues that affect health.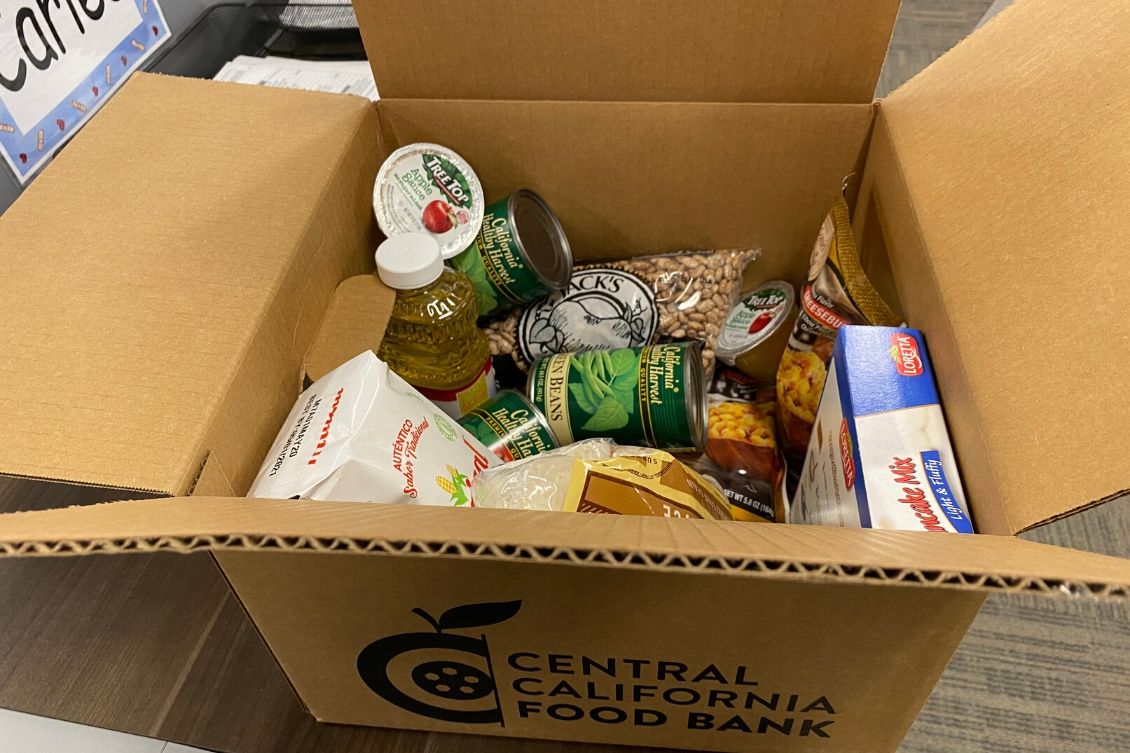 1 in 4 struggles with food insecurity in Fresno area
"Our region struggles with some of the highest rates of food insecurity, but also the highest rates of diet-related health illnesses," said Kim Dildine, co-CEO of the Central California Food Bank, which distributes 38 million pounds of food annually to 280,000 individuals every month. Before the coronavirus pandemic, she estimated 1 in 4 people in the region struggled to find enough food to eat each day.
 
"When COVID hit we saw a 50% increase across all our (food) distribution points," Dildine said. "And 25% of those people had never accessed emergency food help before."
 
Denise O'Canto, corporate relations manager for the food bank, described those new people seeking help as "middle America … It's so sad but so enlightening for many. This has shed light on our mission to give people a hand up in their time of need. COVID-19 doesn't discriminate and neither does hunger – it can affect you at any time in your life."
 
So far, the makings for nearly 13,000 meals have been provided for Community's home health patients.
Food delivered by a trusted caregiver
"Can you imagine being critically ill or having some other injury that makes you homebound, and you have no idea how you are going to access your next meal," Dildine said. "And then here comes your nurse who you know and trust, into your home with a helping hand and food at a time when you need it the most."
 
In her job, Flores sees patients just discharged from the hospital who still have health challenges. "We help educate families on how to do IV care, feeding tubes, wound care, tracheotomy care or maybe how to care for a NICU baby," she described her nursing work. "There's such a wide variety. I love it because every day you don't know what you are going to encounter."
 
Because she comes into their homes, Flores gets to know her patients well and understands that many of them also struggle with the basics like food and housing. This partnership gave her a way to help, she said.
 
Dildine said she's grateful for the partnership with Community "to provide hope for those who are most vulnerable in the region."
 
It's a collaboration Zenovich hopes will continue past the COVID-19 crisis. "This collaboration is how things should work," Zenovich said. "I'm all for leveraging the experts. Now our patients are getting food brought to them directly by caregivers they trust."