When the coronavirus (COVID-19) arrived locally, Dr. Rais Vohra, Fresno County's interim Public Health Officer, said he was glad to have strong relationships in place with local hospitals. Being able to call on community partners helped Fresno County Department of Public Health overcome the fact that it has been running lean for years and was without its own public health lab after a water main break destroyed the old laboratory in 2018.

"This would be the real gain of this crisis if we can continue to build on this," he said, marveling at how COVID-19 has brought the region's various organizations together. "I've never had people email me out of the blue and ask 'How can I help? I have a day off and I'd like to come help.'"

Many of those offers came from colleagues, said Dr. Vohra, who regularly works shifts at the Community Regional Medical Center emergency department and is a UCSF Fresno faculty member. He got assistance early in the crisis from Community Medical Centers to produce public service announcements and later with clinicians to staff testing locations. Extra hands from UCSF Fresno's medical residents helped get a call center up and running.

"We had to pull the medical residents out of the hospitals for their safety and to conserve PPE (personal protective equipment)," Dr. Vohra said. "I just took as many as I could to help on phones and with contact tracing."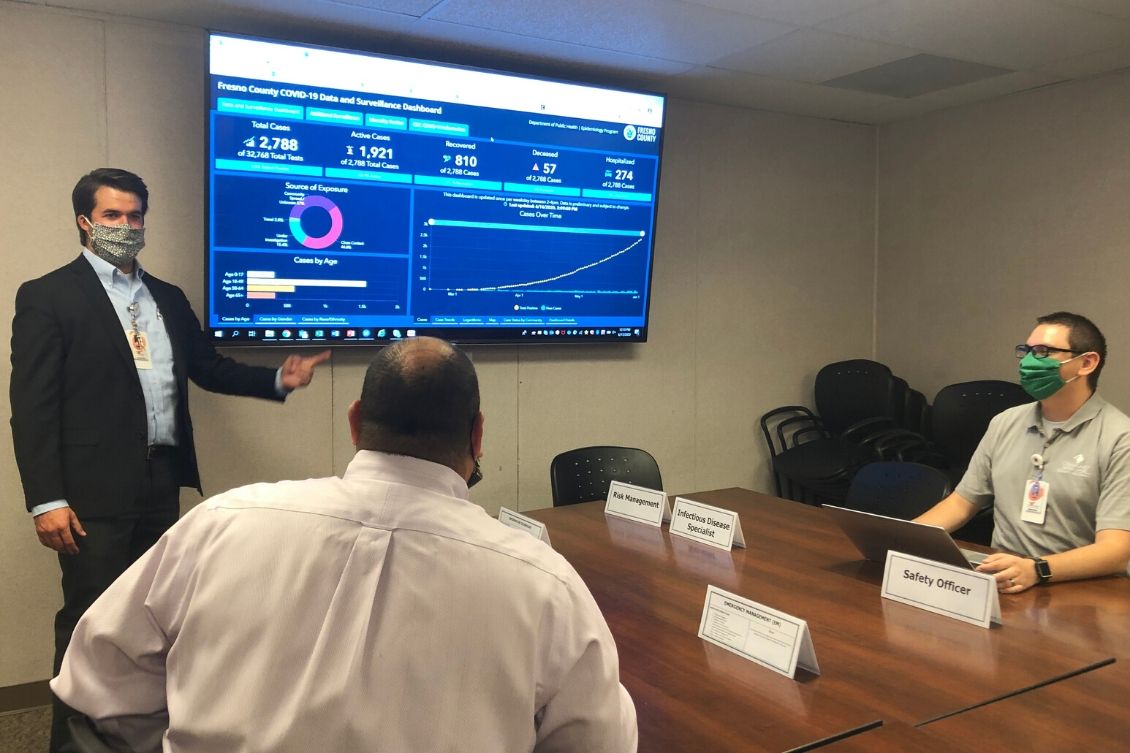 Pre-COVID taskforce established crucial connections
An essential group to the region's coronavirus response, the Central California Emergency Management Task Force, began last fall at Community Regional Medical Center.

"The relationships really make all the difference. If anything happens, you want to know people up front," explained Matt Joslin, Vice President at Community's hospitals and the health system's official liaison to the rest of the community during a crisis. "Last year, we spent a lot of time trying to proactively build relationships with all of our counterparts. I can't say enough about what great partners Dave Pomaville, Dr. Vohra, and everyone at Fresno County Public Health have been. Their leadership has been crucial to helping our community respond."

After meeting with representatives of local fire and police departments, Fresno County Public Health, CalOES (the California Office of Emergency Services), and federal partners at CISA (the Cybersecurity and Infrastructure Security Agency – part of Homeland Security), Joslin said, "we realized there wasn't really a single forum where all these people could come together. It was clear there was no central hub to help coordinate preparations for a big event like this."

The task force was deciding on next steps after its second meeting in February when COVID-19 hit Fresno County. Now members of that task force are able to rely on those relationships to talk and meet virtually as often as needed to help coordinate the community's response.

"Having these strong relationships in place helps facilitate effective communication and problem solving," Joslin said, "whether it be working with the county to implement the various health orders in place, or reaching out to CalOES on the importance of considering the Central Valley's needs in the broader statewide response."
Hospitals partnered in new ways
Throughout this event, local hospitals have also partnered in new and effective ways. Liaisons from all the hospitals in Fresno and Madera Counties talk regularly as a group, as well as with Fresno County Public Health. Maintaining this close coordination has been essential to facilitating the local healthcare system's ability to respond effectively and ensure adequate capacity to take care of the community's needs.

Through those meetings, Joslin said, hospitals supported each other with testing capabilities and worked together to develop ways to educate the community on the importance of wearing a mask, social distancing and other important healthy practices. And more recently the hospital group leant its infection prevention expertise to local schools as they determine the safest way to reopen schools this fall, said Joslin.

Because they were already collaborating, local hospitals were able to quickly help Fresno County Public Health attest to the state at the end of May that hospitalization rates and ICU rates were stable and they had the capacity to accommodate a potential surge in COVID-19 patients. That proof allowed Fresno County to get state permission to open retail stores, manufacturing and offices where telework was not possible. "A lot of that reopening depended on hospitals' ability to respond if there was an outbreak," explained Joslin.
Local groups generously support, encourage healthcare workers
Dr. Vohra and Joslin agreed that the coronavirus silver-lining has been seeing the entire community come together to assist each other in big and small ways.

Early in the crisis, generous donors stepped up to help establish a healthcare employee relief fund for things like childcare. One matched dollar-for-dollar up to $250,000. Others supported hospital staff with food deliveries, treats, hand-sewn masks, PPE, and even performances to cheer weary staff. The Downtown Fresno Partnership created "Unity for Community" T-shirts to sell to benefit the COVID-19 Relief Fund for Community Regional Medical Center. Even a 2-year-old artist sold her paintings to help the COVID-19 Relief Fund.

"It's such a difficult time for nurses, doctors and support staff, anything we can do to make them feel appreciated as well as help the local restaurants during this time is what we are trying to accomplish," said Tali Whelan, an R.N. and founder of the local Front Line Appreciation Group (FLAG), which has delivered 3,000+ meals to Community Regional staff. FLAG, local firefighters and first responders, and local church groups have also turned out for boisterous car parades around the Clovis and downtown Fresno hospitals to show appreciation.

The community response has been an uplifting part of the crisis for frontline workers, many of whom benefitted from the employee relief fund and meal deliveries.

"When COVID-19 first hit the Valley, we had several donors wanting to both give monetary and non-monetary donations – like masks and gowns – to help us flatten that curve," said Katie Zenovich, chief fund development officer for Community Medical Foundation. "And shortly after we had an outpouring of support with things like food deliveries and contributions from local businesses and individuals.

"Watching our community come together in the face of a crisis like this has been really inspiring, and we owe a debt of gratitude to everyone who helped, and to those who will help going forward because this fight is not over for us."